Friends,
 
Last fall, RSB partnered with friends in Danville, VA on a benefit show for the great folks at Danita's Children in Haiti. At the time, God was doing amazing things with the orphanage, church and the ground breaking for a new Children's hospital. We were thrilled to show our support for them. Clearly, the catastrophe in early January has changed everything.

It's been a month since the earthquake in Haiti. Part of our long term response will be supporting Danita's Children in Ouanaminthe, Haiti as they more than double their capacity for orphans and expedite construction for new housing & a hospital. They need to be empowered to respond quickly and efficiently to the great need in the country.
 
Founded by Danita Estrella in January 1999, the Hope for Haiti Children's Center began with a small rented house and fourteen children in Ouanaminthe, Haiti. Since that time they've started and completed several projects, beginning with the church in 2003. The campus has grown to include a new orphan home for boys and a cafeteria, a school building and playground and soon, the Danita's Children's Hospital of Hope.

Prior to the earthquake they had 77 orphans in three orphan homes, nearly 500 children in their school, and served as many as 17,000 meals each month through the feeding program. A church and congregation of more than 500 Haitians provides a place of spiritual hope and healing. Â Since the earthquake on January 12, they have added 53 more orphaned and impoverished children to their care, and are providing a place of refuge for an additional 20 adults and family members who were displaced by the disaster. They are also preparing for the strong possibility that they will be taking in more children in the near future.

After one conversation with Danita, I knew very quickly she will be in Haiti for the long haul because of the children. Children like Katiana. She is 13 and lost both parents in the quake. Her right arm was amputated shortly thereafter. She was rescued from the streets and is being cared for in Haiti by Danita & the ministry team.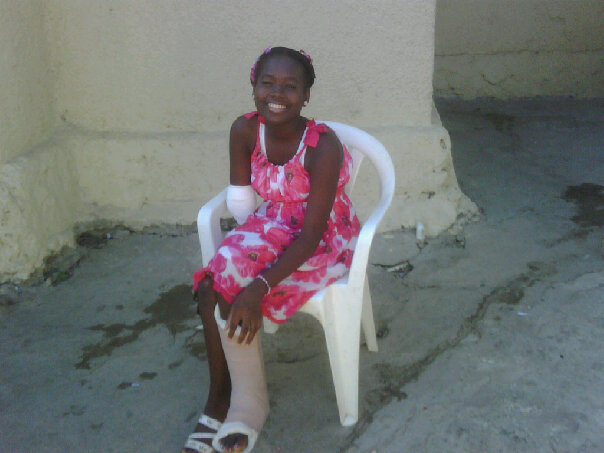 If you choose to donate any amount ($1, $5, $100. . .whatever) to Danita's Children for the next 30 days, you will receive an email with a link to download a brand new song from RSB called "LAMENT (WE CANNOT WAIT)" from the upcoming album releasing March 23. Join us in giving, praying & serving as a long term response to the great needs in Haiti.

To make a donation now visit: Danit'a Children Donations

To visit the Danita's Children website: www.danitaschildren.org 


Thank you for joining with us in these efforts.
Blessings,
Robbie

Also, many have asked of immediate, specific needs in Haiti. Danita's Children has many that you can help with. Because of the earthquake crisis they are expediting raising the funds to build the hospital. They also need volunteers who are willing to come and serve for a month or more. Â More specific needs are identified on the website: Danita's Children - Ways To Give

BTW, below is a message from Charity Navigator who rates non - profits and charities according to how they handle donations and funds. Danita's Children is at the top!

"We are proud to announce Hope for Haiti Children's Center has earned our fourth consecutive 4-star rating for its ability to efficiently manage and grow its finances. Only 8% of the charities we rate have received at least 4 consecutive 4-star evaluations, indicating that Hope for Haiti Children's Center consistently executes its mission in a fiscally responsible way, and outperforms most other charities in America. This "exceptional" designation from Charity Navigator differentiates Hope for Haiti Children's Center from its peers and demonstrates to the public it is worthy of their trust."